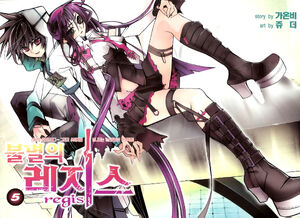 Welcome to the Juder Wiki, an encyclopedia about Juder's series Immortal Regis and Cavalier of the Abyss.
This Wiki contains unmarked spoilers. Proceed reading at your own risk.
All characters' page names are listed by first name, then last name, as few characters are referred to by their last name.
One day, suddenly ... a night where the moon shines like never before, a boy meets the otherworldly Serin, a denizen of Chaos, only to die and become the undead. Now immortal, he can no longer exist with humans due to an ancient law ... A tale of revelations that begins as he returns to Chaos, the start of a new adventure!
Sequel to Immortal Regis. Reading the entirety of the prequel is highly recommended, otherwise, this story from chapter 4 on will spoil it and/or be confusing.
Cavalier of the Abyss (so far) is set only in the world of Chaos. There is now a Regis of Chaos. This story follows a new character, a teenage boy named Xix, who seeks revenge against the Regis, Nex, for the death of a girl named Siana.